OPTALIGN touch
The game changer in laser-optical alignment
OPTALIGN touch by PRUFTECHNIK is the device of choice for simple, fast and daily alignment jobs – a device needed in any maintenance workshop!
The OPTALIGN touch advantage
Success Story
ROTALIGN and OPTALIGN set milestone in occupational safety
Safety engineers around the world can breathe easy. The PRUFTECHNIK ROTALIGN and OPTALIGN technology has made aligning machine shafts, especially gear shafts, much safer. Coupled shafts that may not be rotated by hand during the alignment measurement, such as in gear generator wind turbines, can be measured absolutely safely for alignment thanks to the unique laser sensor technology. By now, this process has advanced so much that manufacturers of wind turbines explicitly require this special technology from Bavaria because of the special HSE regulations
READ MORE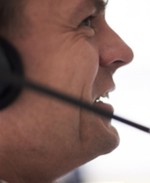 WE WOULD BE HAPPY TO HELP YOU!
Do you have any questions about our products and services?
Please complete our contact form and we will process your inquiry as quickly as possible.